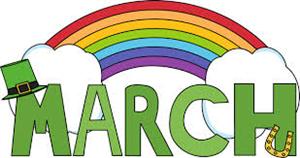 During the month of March the preschool students will learn about and transform their classroom into a mall. The teachers and children will work together to decide the stores they want to explore and shop in. The new theme encourages students to think about math, use expressive language and model social and emotional skills. Imagination will be creative as children pretend to work and shop at the mall. Don't be surprised if your child asks you to take a "road trip to the Monmouth Mall any time soon!
The kindergarten students will be wrapping up the neighborhood theme and begin to explore and work on the weather unit. Let's hope the students are able to work their magic and bring us some warmer days.
March 2-6 the whole school will celebrate Dr. Seuss's birthday with fun activities and special readers all week.