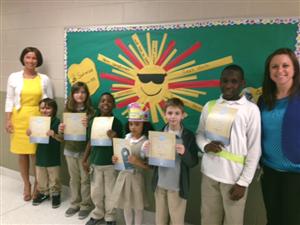 Congratulations to Gregory School's


Students of the Month!
"Where Children Matter Most!"
Welcome to the Gregory School! The Gregory School Family would like to take this opportunity to welcome our parents, guardians, students, and community members to our web site! We are looking forward to working with you and your child (ren).
The theme of the Gregory School this year is based upon the quote by John C. Maxwell stating, "Teamwork Makes the Dream Work!" Our goal is for all stakeholders including: the Principal, Vice Principal, educators, parents, guardians, and the school community to work collaboratively to provide the best educational opportunity for all students. Our Gregory School Team will foster a child-centered learning environment that embraces a culture promoting positive thinking, diversity, kindness, character, and respect for all without exception. The Gregory School Team is committed to our four district pillars:
· Ensuring that all students master the academic standards.
· Holding students and adults to high expectations.
· Working collaboratively and basing decisions on fact, not opinion.
· Building strong partnerships with families and community.
As principal, I welcome your participation and support throughout the school year. On behalf of the Gregory School Family, we greatly anticipate celebrating your child's successes. Please feel free to contact me with any questions, comments, or concerns.
Sincerely,
Bridgette A. Burtt
Principal