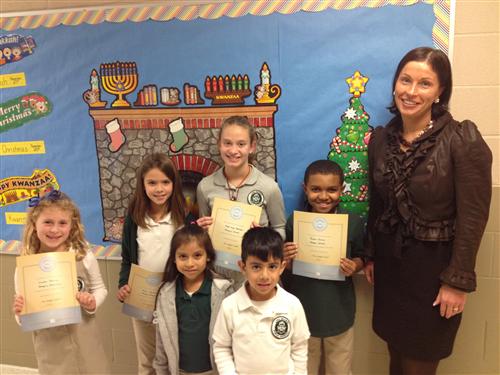 Gregory School Students of the Month
Dear Gregory School Family,
Welcome to the Gregory School and the 2013-2014 School Year!
The Gregory School Team is committed to our district motto "Where Children Matter Most!" Our
goal is to provide students with a safe, supportive, and challenging learning environment where all
students are recognized for their continuous growth and academic achievements.
Our four pillars are the foundation of our professional practices and they shape what we do in our school and in our classrooms each day:
Building strong relationships with families and community.

Ensuring that all students master the academic standards.

Holding students and adults to high expectations of conduct and performance.

Working collaboratively and basing decisions on fact, not opinion.
In the upcoming school year, we look forward to continuing to build our family, community, and school partnerships. Musician Rod William said, "We are like pieces in a jigsaw puzzle. We are all unique, and have our own special place in the puzzle of the universe. Without each of us, the puzzle is incomplete. " At the Gregory School, we believe teamwork and collaboration are essential to accomplish our district mission. "We the Long Branch School Community, strive to meet and exceed the standards set forth by the state of New Jersey."