George L. Catrambone School
Together We Can, Juntos Nós Podemos, Juntos Podemos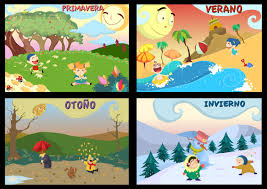 Hello my friends and families: this week we are going to follow this activity to practice the Seasons of the Year! Make a pretty picture for each season and label it in Spanish. Click on the link Las Estaciones and follow the instructions that also comes with the vocabulary you need to complete the activity including the months of the year. You don't need to print the pages, just make your own and have fun!!

Hola amigos y familias: esta semana vamos a seguir esta actividad para practicar Las Estaciones del AÑO!! Haz un bonito dibujo para cada estacion y escribele el nombre ESPAÑOL. Apreta en el enlace Las Estaciones y sigue las instrucciones que vienen tambien con el vocabulario que necesitas para completar la actividad incluyendo los meses del AÑO. No necesitas imprimir las paginas, solo haz las tuyas y diviertete!!!.

I also want all of you to enjoy a nice Youtube video about the Weather and the Seasons!

https://www.youtube.com/watch?v=XhGkTV84WZM

Tambien les dejo para que todos disfuten de este video de youtube que es sobre El Estado de Tiempo y las Estaciones!